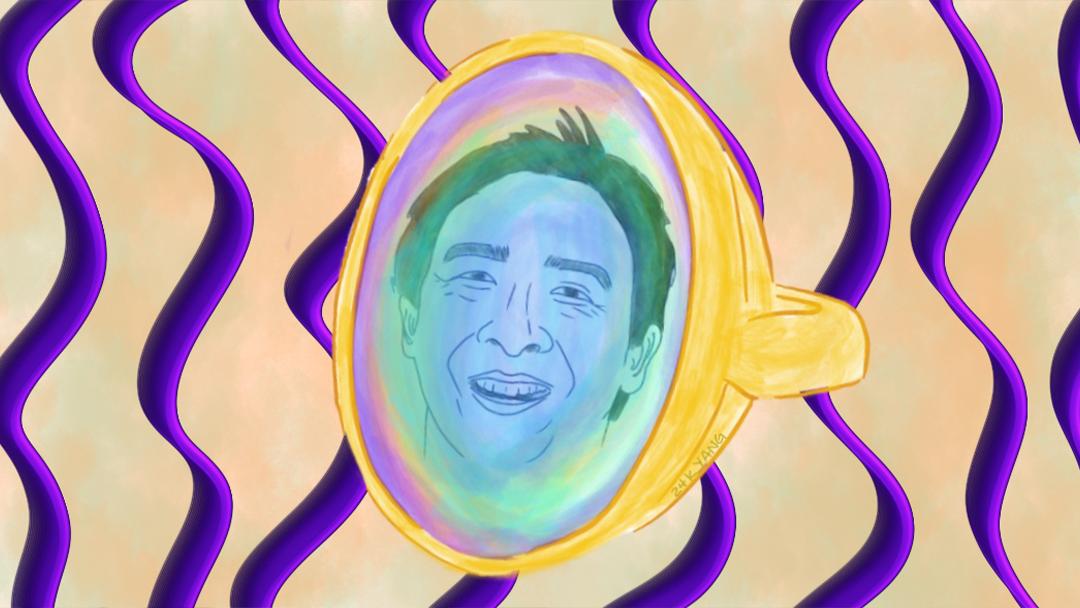 Did you know that Andrew Yang found a mood ring in a Greenwich Village bodega while he was waiting for his brunch buzzer to signal that Peg was ready to serve him, and he's worn that mood ring every single day since vowing to never take it off ever again? Here's a guide to what all the mystifying colors mean, so you can keep up with the mood of his exciting campaign!
Andrew is feeling happy and hopeful today! His pecs are firm (LEX and REX, the names he's publicly given his pecs) and the TikTok lounge is being constructed! In just a few years, we will finally have a bar in this city that encourages going viral. What could possibly go wrong?!
Andrew is feeling sad and confused today! Awwww! Not even The Yang Gang could enjoy his commentary on the Israeli government being the true victims of an occupied people. Sad! Better luck next time, Andrew! It's not too late to buy an ACAB pin to replace MATH. Could win ya back some New Yorkers who think human rights are cool and that math is hard and boring!
Andrew is feeling impulsive today! He just wants to hit the open road and get out of the city for a mere ten or eleven months and have some fun! (See, this is why we love him.) But don't worry, he will be back just in time for the mayoral election. We really applaud the courage he has shown in coming back to New York City to do some campaigning and shopping for bananas at the most pristine bodega we've ever seen! He's our guy!
Andrew is feeling gothic today! He woke up on the wrong side of the Defund The Police debate and now he is feeling hopeless. While laying on his bed in the dark, listening to "Dark Side of the Moon" (his favorite goth banger) thinking "How can I possibly open a TikTok dance club without security and police guarding the doors to make sure the fatties don't get in?" Sometimes running for president and mayor totally and completely blows!
Andrew is feeling girly today! He just left a really positive meeting about getting more women CEOs for the planned 2022 robot-pocalpyse. Rad! There were even bagels and cream cheese at the meeting! Can you believe? Today's a good day, and an even better ~mood~ <3
For more from this issue, click here
Support leftist comedy and art! Subscribe to our Patreon or buy some physical goods from our shop.