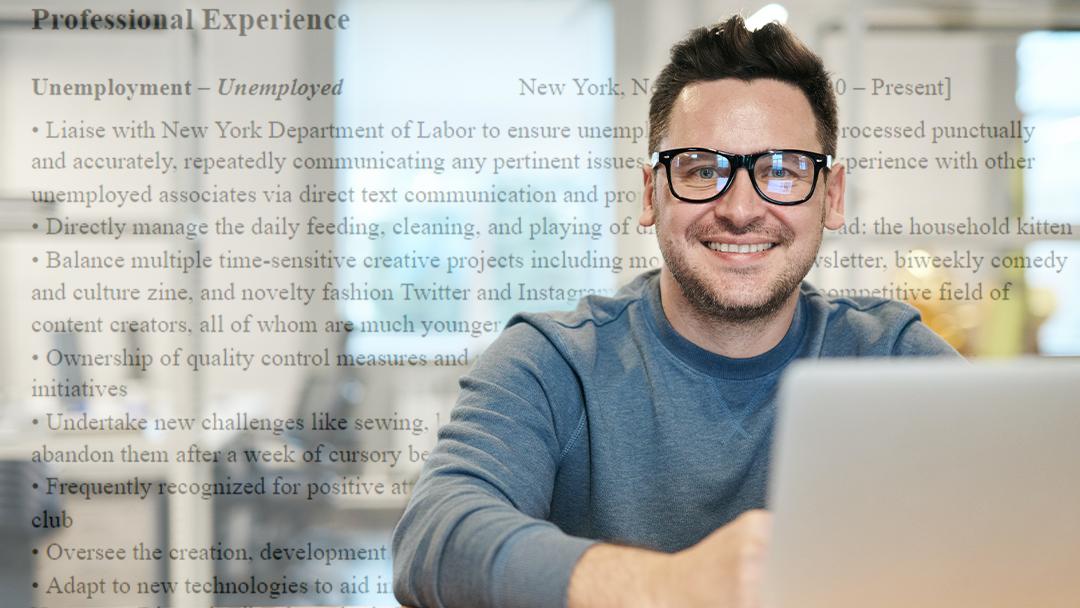 If you're anything like me, you've spent the past year applying for hundreds of jobs to no avail. As time passes and my savings dwindle, that gap year on my resume becomes abundantly glaring. Sure, a global pandemic caused me to lose my job of 10 years and stall hiring nation-wide, but you can't expect hiring managers to keep that in mind! I don't want any future employer to assume that I've spent the entire past year lazing about, so I've decided to add unemployment to my resume. If the massive uptick in interviews I've received since are any indication, it's actually been really good for me.
Professional Experience Unemployment – Unemployed / New York, New York [June 2020 – Present]
Liaise with New York Department of Labor to ensure unemployment payroll is processed punctually and accurately, repeatedly communicating any pertinent issues with process and experience with other unemployed associates via direct text communication and proper social channels
Directly manage the daily feeding, cleaning, and playing of direct department head: the household kitten
Balance multiple time-sensitive creative projects including monthly music newsletter, biweekly comedy and culture zine, and novelty fashion Twitter and Instagram account in a highly competitive field of content creators, all of whom are much younger than me
Ownership of quality control measures and process improvement regarding in-house mixology initiatives
Undertake new challenges like sewing, baking, and playing guitar while maintaining the flexibility to abandon them after a week of cursory benefit assessment
Frequently recognized for positive attitude, teamwork, and negotiation skills in weekly virtual movie club
Oversee the creation, development, and launch of successful weekly workout regimen
Adapt to new technologies to aid in continued virtual communication, including Zoom, Google Hangouts, Discord, TikTok, and others as various tech startups pop up and fizzle out
Facilitate the wearing of real clothes on a flexible as-needed basis
Maintain a positive, community-forward attitude in a fast-paced, high-stress, unloving world
For more from this issue, click here
Support leftist comedy and art! Subscribe to our Patreon or buy some physical goods from our shop.