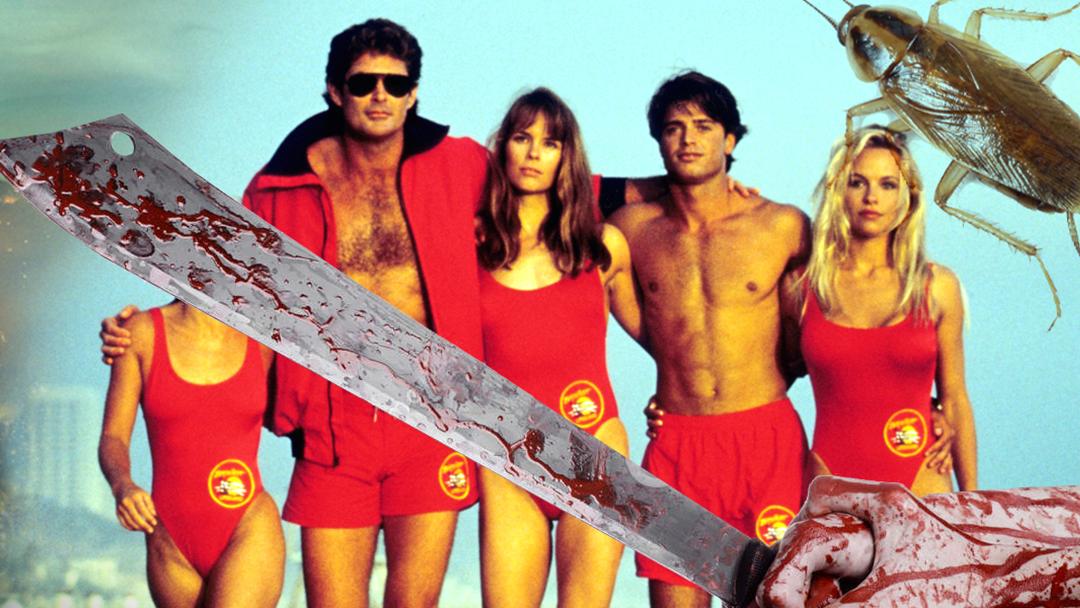 "It's easier to imagine the end of the world than the end of capitalism." —Fredric Jameson / Slavoj Žižek
"If you think about it now, it's kind of ridiculous. All these hot girls on Baywatch in tiny little red bathing suits running around saving lives." —Carmen Electra
Mark Fisher posits in Capitalist Realism that after the fall of the Soviet Union, capitalism has become so entrenched as the dominant economic system that it is impossible to conceive of anything else. But he didn't have this quiz! Take a peek below and decide for yourself: what's easier for you to imagine?
a) The concept of scheduled meals is laughable to you. No crops can grow in the irradiated desert you call home. You find a cockroach scurrying beneath your bedroll and suck it dry.

b) Most mornings you grab a piece of fruit from the community garden. You work a few shifts a week and know everyone there. No need to pay—there's more than enough for everyone!

c) A slow lick of cream off David Hasselhoff 's abs.
a) Ever since Water War II and the complete collapse of the power grid, there has been no use for money. You beg for what you can from your warlord, or you die in a ditch.

b) Ever since Water War II and the rise of the Global Workers Party, there has been no use for money. Society is organized by tasks that need to get done, and those who are able to do them, do them.

c) Pamela Anderson's CPR victim. Hachi machi!
a) If you are being charitable, the dilapidated slum you call your home has what can be called a roof, making you one of the lucky ones. All of this could be taken away in an instant, either by your warlord or a roving band of mercenaries stronger and crazier than you, a person who prays each evening to a tattered poster of Kid Rock driving a Ford Excursion. Your warlord, meanwhile, lives inside a lavish compound built around the only source of water in the region. You have been in there precisely once— during your Branding Ceremony—when you pledged undying fealty to Him and His Glory. In turn, He promised to protect you. It was a bad deal then, and an even worse deal now.

b) You live in a co-op owned and operated by everyone else in the building. There are few private homes anymore—the concept of private ownership over a basic human right such as housing seems outlandish and gauche. Every month, you get together with your neighbors to discuss upkeep and repairs. Your walls are sturdy, your electricity is plentiful, and your Internet is fast. Most importantly, all of it is free.

c) I live inside Carmen Electra's damp, one-piece bathing suit.
a) It is difficult to trust anyone. They might be after your monthly allotment of water. They might want to eat your flesh—as absurd as it sounds now, you've heard reports of cannibals coming from the land formerly known as Canada. But what can you do? The world is kill or be killed. You clutch the machete you picked up off one of the many dead soldiers that rot across the city's ditches and sleep with your back against a wall.

b) The concept of a "work day" and "after work" don't make a whole lot of sense to you because your life is not structured around work. Life is there to live, and as such, you have many hobbies—music, painting, sculpting, theater, dance… everything is readily accessible for everyone, as there's no need to pursue something silly like a "day job." Artists contribute to communities and the arts are valued. Regardless of commercial viability, your community is vast and supportive, and it is impossible to imagine them being anything but.

c) A crusted body pillow shaped like Yasmine Bleeth.
a) If you had to pick one, it would not be the mass starvation, the brutal autocracy, the land choked of all life… it would be the death of hope. When you close your eyes and allow yourself to dream, you can sometimes picture a far away world, one where the oceans have yet to boil and the skies are not stained permanently red. In those fleeting moments, you try to project whatever psychic energy you have left to send a message to their people. It is always the same: whoever lives there, know this—stay far, far away from here.

b) It is difficult to imagine a downside to perfect communism, but if you had to choose… the Super Bowl commercials aren't as funny as they used to be. You miss the WAAZUP guys and the Budweiser frogs. Now, Super Bowl ads just remind everyone to vote in their union election (the NFL, like all companies, is publicly owned).

c) The fact that Jeremy Jackson, despite his hunky ass appearing in 159 episodes of Baywatch, has BARELY any erotic fan fiction written about him. And the ones that do exist don't go into enough detail about his tight little ass.
Mostly As: You had an easier time imagining the end of the world, which is good, because this is where we're heading. See you in Water War II, soldier!

Mostly Bs: The end of capitalism was no problem for your imagination. Congrats! Please use your imagination to talk with your co-workers and neighbors about building a better world. See "Mostly As."

Mostly Cs: You are incredibly horny for the cast of Baywatch, and who can blame you? Why do you think I'm writing all this erotic fan fiction about Jeremy Jackson's tight little ass?!
For more from this issue, click here
Support leftist comedy and art! Subscribe to our Patreon or buy some physical goods from our shop.