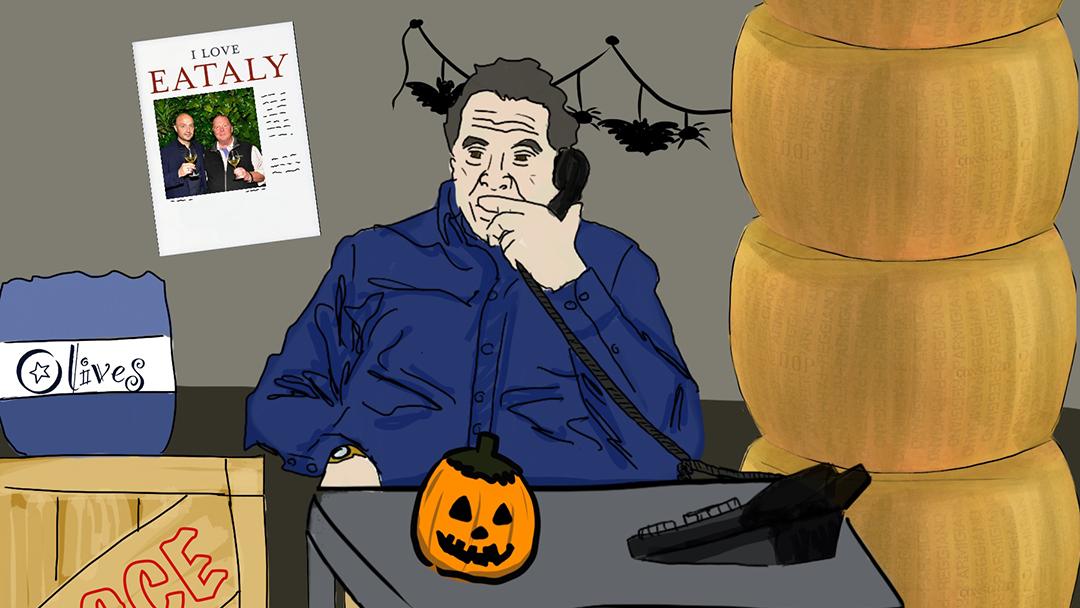 Since resigning as the Governor of New York this past August amidst multiple credible sexual harassment allegations levied by current and former staff, Andrew Cuomo has largely stayed out of the public eye, leaving many to wonder what he's been up to. After an investigation spurned by an anonymous tip sent to Functionally Dead on Signal, we can now confirm exactly what Mr. Cuomo has been doing with his spare time: attempting to form a shadow government in the basement gelato freezer at Eataly's Flatiron location.
The first sign that something was amiss at the Italian version of Ren Faire came when Head Gelato Boy at Eataly Dale Simp noticed they were running low on stracciatella on August 24th, the day after Cuomo's resignation. "I went down to the gelato freezer, and when I opened the door, I saw a guy who looked a lot like Andrew Cuomo standing over a map of the State of New York. I thought he was a lost tourist, so I just told him the bathrooms were upstairs and ignored him."
Dale, however, said the situation immediately became uncomfortable as the man demanded a selfie and revealed himself to be the former governor, saying"this is just like when people saw Hillary here after she lost, right my guy? I've always said Eataly is my Chappaqua. You should post this in Pantsuit Nation on Facebook." Dale took the selfie and told no one about the incident.
"I don't really get paid enough to have to be responsible for discovering this freak in our basement."
Celene Donkers, Head Panini Monger at Eataly, came across Mr. Cuomo for the first time while looking for mortadella on September 5th.
"The walk-in where we keep the mortadella is next to the walk-in gelato freezer. While I was in the walk-in, I noticed a man in the vents telling me to come help him in the gelato freezer. Against my better instincts, I walked over there to find Mr. Cuomo with a giant desk, an American flag, and a sign above him that said 'Office of the Governor of New York' that looked like it was written in feces."
It was at that point that the Governor tried to recruit her as his Chief of Staff.
"I told him I didn't want to work for him. He told me he'd settle for a 'buttock massage' instead," Donkers recounted to Functionally Dead.
In recent days, Mr. Cuomo has grown more brazen, having been sighted near the Cannoli e Bombolini counter trying to convince tourists to join him in "the Resistance Italiana" in the gelato freezer. "I just wanted a cannoli, and all of a sudden this guy who looked like Andrew Cuomo but smelled like rotten manchego is asking me if I 'know computers' because he needs a computer guy for his team," Staten Island native, Ferry di Stella tells us.
Not everyone was alarmed by the feral Cuomo's solicitations.
"I've been working as his Chief Strategist for three days out of the gelato basement," said Rick Stibbens, a 42 year old former staff member on Pete Buttigieg's failed bid for president. "We hope to be finished staffing by the end of September. Then we can launch our shadow bid for rightful control of the state of New York. It may not work out, but if there's one thing I learned working for Mayor Pete, there are no consequences in politics for hitching yourself to a maniac."
Functionally Dead reached out to Eataly for comment. They released the following statement in response this morning:
"We had no idea that Mr. Cuomo was attempting to run a shadow government by himself out of the gelato freezer at our Flatiron location. We are working with Mr. Cuomo to safely remove him from the premises and repay us for the damage to the gelatos. This is a delicate process that may take some time. We ask that any customers or staff who come into contact with the former governor during this time do not take a selfie with him. He can't last much longer without attention, and we're hoping that if no one gives him any, he'll eventually move on from the walk-in to an environment that can sustain him, like a paid political analyst position at MSNBC."
For more from this issue, click here
Support leftist comedy and art! Subscribe to our Patreon or buy some physical goods from our shop.