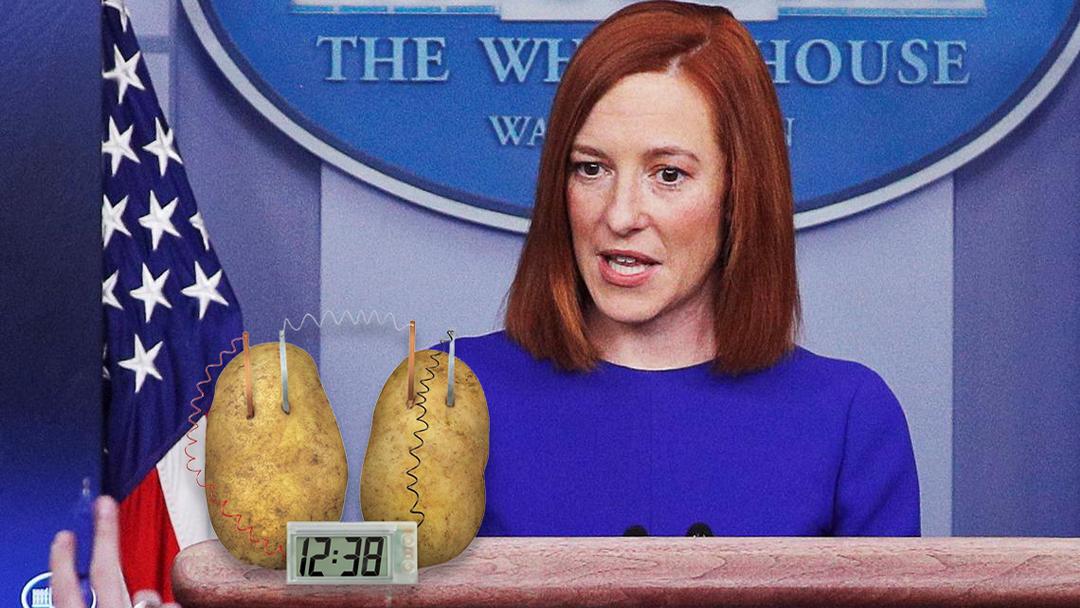 Washington, D.C. – White House Press Secretary Jen Psaki, when asked how the Biden administration could claim to "believe in science" despite its consistent failures to adequately address the COVID-19 pandemic and climate change, clarified that the administration only believes in science when it comes to powering a small clock with a potato.
"Unlike President Trump, President Biden believes that a potato has enough energy to power a clock," Psaki said. "For decades, scientists have been warning us about the potato's mild phosphoric acid content and its ability to oxidize zinc. And when it comes to generating just a few volts of electricity, the science is clear: we have to act now. That's why we're urging every American, especially those facing eviction now that the Supreme Court has ended the eviction moratorium, to locate a potato and some wires and try it out for themselves."
When asked why the White House is on pace to approve the most oil and gas drilling on US soil since the George W. Bush administration despite the recent UN climate report indicating we're at a "code red for humanity," Psaki became irate.
"We go in the direction of the data," Psaki said. "And the data is telling us that several billionaires would like to see their stock portfolio tick up a couple more percentage points. The data from the potato clock is also telling us we have three more hours until the market closes today. But I'm surprised you're even asking me that question when there are Republicans in the House that dispute the very existence of potato-powered clocks."
"What my Republican friends need to understand," President Biden said later that afternoon on the White House lawn, "is that the potatoes are powering the clocks now. Not ten years from now, not when our grandkids are on Mars fighting in the Amazon Delivery Drone Wars, right now. If we don't act… I don't want to think about what could happen."
When a reporter asked what could possibly happen if we continue to allow potatoes to power clocks, President Biden stepped down from the podium and jabbed his finger in the reporter's face.
"Annihilation! But if we could harness their energy, convince them that we share a common enemy in China… that's why I'm allocating eleven trillion dollars for the Pentagon to develop potato-powered power planets to take America into whatever the next century is. But in the meantime, all we can do is wear a mask–unless your governor has forbidden it—keep schools open to give the Delta variant some time to spread around our unvaccinated children and tucker itself out, and frack our little white assses off."
President Biden declined to answer any more questions before leaving for Marine One, offering instead, "Now it's time for me to let the Missus comb my hair over a bowl of Christmas soup!"
For more from this issue, click here
Support leftist comedy and art! Subscribe to our Patreon or buy some physical goods from our shop.