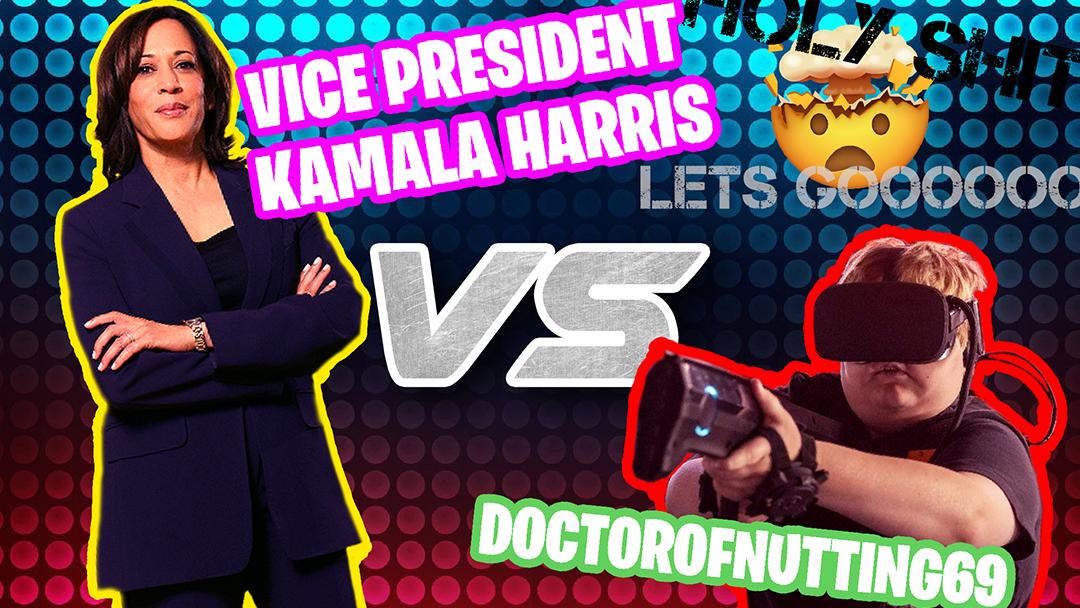 While the President was attending the G7 summit in Cornwall, Vice President Kamala Harris was at an entirely different convention—E3, the Electronic Entertainment Expo.
"Nothing is more important to the health and stability of America than the video game industry," President Biden said in a recent statement. "That's why I'm sending Vice President Harris to E3 to sort these pixels out."
The Vice President's visit hit an unexpected snag when she was informed that, due to the COVID-19 pandemic, this year's E3 was an online-only event. Sadly, no one would be seeing her dope sneakers this time.
Aides to the Vice President scrambled to find a location within the White House to stream into E3. After finding a spot in the Lincoln bedroom with an Ethernet jack and an Alienware PC set up during the George W. Bush administration, the Vice President delivered her opening remarks to gamers and game developers around the world.
"America was founded on the unalienable right to game," Vice President Harris said during Saturday's Ubisoft Forward preshow. "E3 is the ultimate expression of that right. Gamers of the world, America welcomes you with open arms. Unless you are trying to seek asylum near the border. In that case, gamers: do not come."
While E3 is a four-day-long event with presentations lasting from 8:00 in the morning to well into the night, Vice President Harris, at President Biden's insistence, remained on the stream to watch everything.
"I told Kamala to stream for the whole thing. Americans don't leave early. Period." President Biden said. "Video games are a top priority of my administration, next to voting rights, immigration reform, and whatever other issue I'm dumping on her plate that I couldn't care less about. Ahh, I shouldn't have said that."
The stream was not without controversy. During an exclusive first look at Mario+Rabbids Sparks of Hope! Vice President Harris was asked by guest host Ryan Reynolds what other characters she'd like to see team up with Mario.
"There's so many, I don't think I can just choose." Harris said.
"Just pick one," Reynolds said.
The Vice President stared into the distance for what felt like minutes before responding: "Tetris?"
Gamers took to the chat en masse, decrying the Vice President as a "fake gamer girl" and begging for an Adam Sessler appearance. The hashtag "Vice President Noob" briefly trended on Twitter.
Things got even worse for the Vice President when, during the trailer for Breath of the Wild 2, she was asked what her favorite Zelda game was.
"After seeing this amazing trailer, I think it's got to be Breath of the Wild 2."
"Oh yeah? You a big fan of the original?" guest host Soulja Boy asked.
"Mmmhmmm," Vice President Harris responded.
"How many shrines did you get?"
"Please don't do this to me, Soulja Boy," The Vice President meekly whispered, before her stream cut out due to technical difficulties (we found out later that First Dog Major had chewed through both the ethernet cable and the legs of Kamala's chair).
Despite setbacks, the Vice President continued to stream. Nintendo even sent the White House a demo of the new Metroid game, Metroid Dread, for the Vice President to play on stream. After spending a few minutes trying to figure out how to go left, she encountered a space pirate and died immediately.
"This game has Dark Souls difficulty," Harris remarked, showing a grit and determination to succeed that we haven't seen since she dropped out of the 2020 Presidential race before Super Tuesday due to abysmal polling. "Very Souls-like."
"Chat is saying you suck," guest host Post Malone commented.
"Well, it's harder to control Metroid than you think," Harris said.
"Metroid is the alien. Samus is the character," Post Malone said, stifling a laugh.
"Well, with graphics like these, Samus is looking better than ever." Harris said, pivoting immediately as if she was asked about her past support for Medicare For All. "And gamers everywhere can look forward to controlling him very soon."
"You know Samus is a girl, right?"
"Yes, sorry. I was still thinking of Zelda," Harris said.
"Zelda's a girl, too."
"With the sword and the shield? That's got to be a boy."
"That's not Zelda. That's Link," Post Malone said slowly, as if he were talking to a small, confused child. "Link is the player character."
The Vice President took a second to compose herself. "Whether we're fighting Metroids or securing America's borders from dangerous refugees, This E3 has shown that while women have come far, we still have a lot further to go."
The stream then cut to a pre-tape of Kevin Hart on the set of the Borderlands movie.
For more from this issue, click here
Support leftist comedy and art! Subscribe to our Patreon or buy some physical goods from our shop.