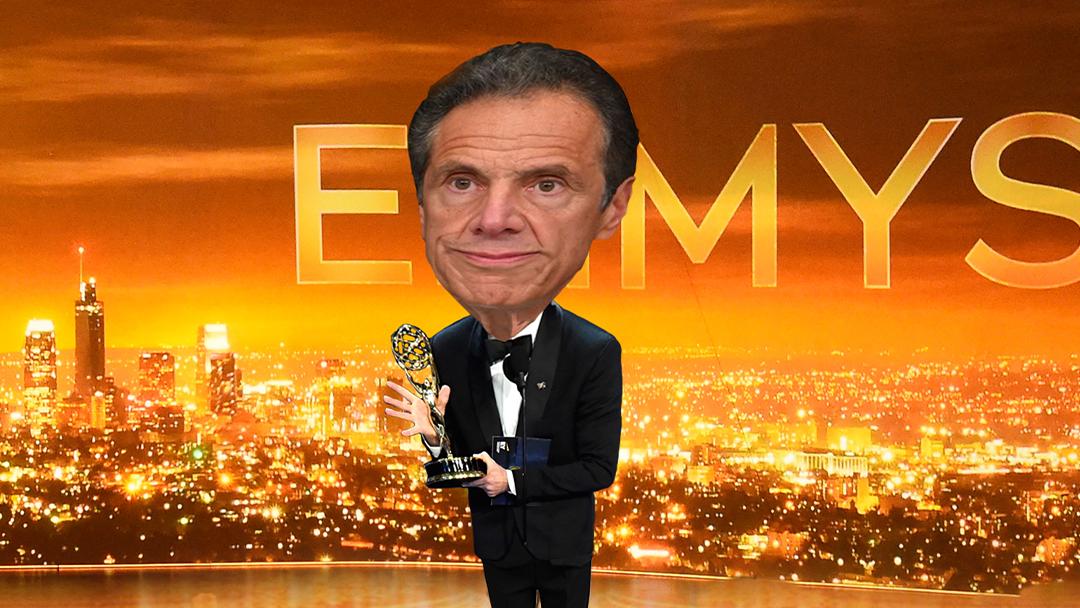 art by Max Knoblauch
We, the 73rd Primetime Emmy Awards, are pleased to present Governor Andrew M. Cuomo of New York with this award in recognition of his flawless media manipulation to focus on his horniness instead of the thousands of nursing home deaths that went unaccounted for in his office's initial reporting.
Last year, the Academy awarded Cuomo an International Emmy Founders Award for his daily coronavirus public briefings, ushering him into an upper echelon of past recipients, such as Kevin Spacey (we fixed that one), and Bill Cosby (haven't fixed that one yet—one day!).
Recently, Cuomo has become better known for being a desperate creep than for the almost 4,000 deaths that he concealed from public scrutiny, all while publishing a book about how he "knocked coronavirus out of New York harder than Aaron Boone's walk-off home run in the 2003 ALCS." This, we believe, is his greatest achievement yet.
Instead of having dead grandmas and dead grandpas and dead great-aunts on our TV screens, we were treated to primetime coverage of Cuomo's breast fondling, his droopy pug-face, and him wanting to "hug someone," as long as "someone" is a young woman with an absolute dump-truck ass. And while these instances of sexual harassment have been widely condemned, the Academy found it illustrative of Cuomo's great aplomb.
"The Governor's unwillingness to resign even in the midst of colossal failures is a display of real steadfastness," said International Academy President & CEO, Bruce L. Paisner. "He's the definition of New York tough. We almost paid attention to the fact that he rewrote official counts of coronavirus deaths, but he distracted us from that by being a real horny freak with no game. Plus, those nipple rings? That's what the Academy likes to see."
It's an open secret in Hollywood that securing an Emmy takes much more than being "America's Governor." It involves significant amounts of backdoor politicking. Luckily for Cuomo, he found a powerful lobbyist in the likeliest of places: his brother, CNN's Chris Cuomo.
"C'maaaahn. He's my brothaa. Sure, we argued on air about who momma loved more, who got to lick da pasta spoon, or who wields more parasocial influence over the emotionally bankrupt and spiritually impoverished American people," the younger Cuomo said. "But we're brothaas. C'maaaahn."
CNN, a network that had the foresight to prematurely lionize Cuomo in 2020—even as New York City rocketed to becoming the global epicenter of the pandemic—also praised the governor for his media manipulation, and for his unquenchable thirst for pussy, which in turn helped their bottom line.
"The staggering number of allegations levied against Governor Cuomo is tragic, indicative of his abusive and psychosexual treatment of staff, and ratings gold," a spokesperson from CNN shared. "After President Trump left office, we got desperate. The nursing home scandal wasn't salacious enough. Turns out this country really, really hates old people."
Upon receiving his Emmy, Cuomo gave a stirring speech onstage.
"I'd like to thank all of the Cuomosexuals, my brother Chris, my father the bridge, and the thousands of Resistance liberals on Twitter who have stood by my side during this difficult time and stopped sharing the New York Times' report on my pandemic cover-up scandal," said Cuomo, raising his Emmy in the air. "One of the most useful skills a future president can have is the ability to shift the narrative. I think I've proven tonight that I have what it takes to win in 2024."
Cuomo had many reasons to celebrate, as he swept every nominated category and took home three more Emmys in addition to his victory in Outstanding Deflection of a Nursing Home Scandal by Being a Horny Freak – Limited Series. Other categories where Cuomo emerged victorious were Outstanding Host of Slashing Medicaid During a Pandemic; Outstanding Lead Actor in Refusing Federal Funds During a Pandemic; and Outstanding Political Posturing Leading to a Vaccine Distribution Bottleneck – Dramatic Special.
The ceremony concluded with the annual "In Memoriam" segment, which featured a slideshow of the 13,000 nursing home residents who perished under Cuomo's leadership during the coronavirus pandemic. The audience booed and vomited as they were forced to look at so many old people. Cuomo, however, was not found in the audience. Instead, the governor was seen near the coat check looking up an Emmy statuette's dress and asking if she'd ever been with an older man.
Dylan is a writer and DEI consultant in Los Angeles, CA. Send him targeted online harassment on Twitter at https://twitter.com/djshoppingcart
For more from this issue, click here
Support leftist comedy and art! Subscribe to our Patreon or buy some physical goods from our shop.