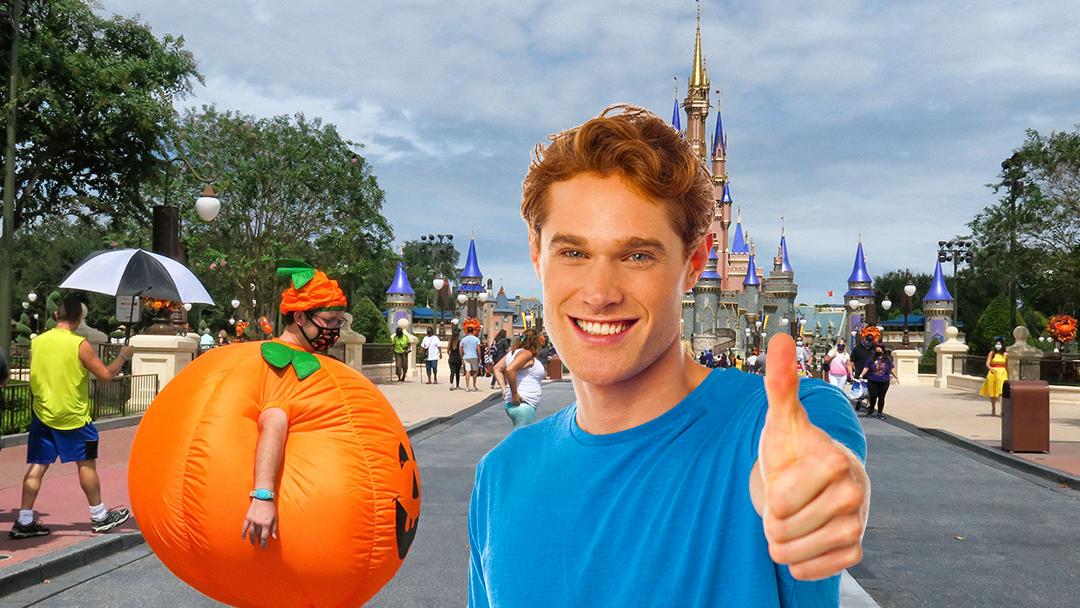 As Disney becomes more age-diverse, many are flocking to its expanding catalog. With franchises like Star Wars and Marvel now under the Disney+ umbrella, there's a lot to offer an adult looking for world-based entertainment. WandaVision is the latest craze, complete with dramatic adult topics and storylines. No thanks. I would like to go on record to say that I was a creepy Disney adult long before it was cool.
I have been obsessed with Disney for as long as I have been an adult. The day I turned eighteen, I wasn't registering to vote or heading down to Johnny Punchdick's kegger to take body shots off his alpaca. I was decked out in my best Peter Pan unitard in the last row of a TWA flight en route to Disney World. The combined smell of the bathrooms directly behind me and the drunk man vomiting next to me couldn't dampen my spirits: I was going home.
"Hotel room for one!" I scream-sang as I skipped across the highly polished floor of the Walt Disney World Dolphin Hotel. I felt truly in my element among the pastel people who all turned to smile upon me as I rolled my Pluto suitcase across the lobby. I could have sworn I saw Princess Jasmine blow me a kiss from just beyond the fountain. All my favorite characters that I consider dear friends in one place—it was almost too magical to handle. It turns out the Dolphin was out of my price range and reservations had been booked solid for three months, so I wound up at Buster's Value Emporium forty minutes from the magic, but I was up at 4AM to make sure I didn't miss a thing. From my first spin on the teacups surrounded by other peoples' children, to eating a huge rainbow lollipop while dancing my way through the palace at Magic Kingdom Park surrounded by other peoples' children, to fistfighting an eight year old who cut me in line to get a photo with Minnie Mouse surrounded by other peoples' children, I was hooked.
I have returned to Disney World every year since for a whopping thirty-one trips in my forty-nine years on this godforsaken planet. It was at Disney I married my beloved husband Krud in my best Belle dress (luckily Krud is a dead ringer for the Beast <3), surrounded by families with kids that we don't know. It was at Disney that my feline septuplets were born*, named of course for the Seven Dwarves. It was at Disney I divorced Krud after falling in love with one of the pirates of the Caribbean. And it was at Disney I begged Krud to take me back after a cast member informed me all of the pirates were animatronics (so lifelike!). Krud and I were remarried while sailing the Seven Seaways Waterway past the culturally insensitive and outdated cultural jubilee of It's a Small World. When we consummated our remarriage with a platonic hug, other peoples' children stood and clapped for us.
Disney truly is the most magical place on earth. Everything else is terrible. It's the only place I feel safe as an adult in this cruel society. I have no place in the home, the boardroom, the park, the grocery store—only the world of Disney feels right. Jeans chafe my calves, while vegetables burn my tongue. Only head-to-toe cartoon-inspired spandex and a bushel of candy will do!
Where Krud and I used to be the only childless tourists promenading throughout our Walt Wonderland, hand in hand with Snow White in the Germany Pavilion, now droves of grownups pour into my sanctuary to eat protein-based meals and smoke cigarettes near the Star Wars Millennium Falcon: Smuggler's Run. As the masses of normies find their way to Disney through a broadening inventory of age-appropriate entertainment, I say this: do not forget us, the creepy adults who have always loved Disney. We will die in this castle, and I don't mean that metaphorically: I'm going to auto-asphyxiate myself on Splash Mountain and I've already bribed one of the groundskeepers to hide my body inside the statue of Joe Perry at the Rock n' Roller Coaster.
*we were banned for one year after the cat incident, but absence makes the heart grow fonder—we took two trips the next year to make up for our lost Disney time
For more from this issue, click here
Support leftist comedy and art! Subscribe to our Patreon or buy some physical goods from our shop.