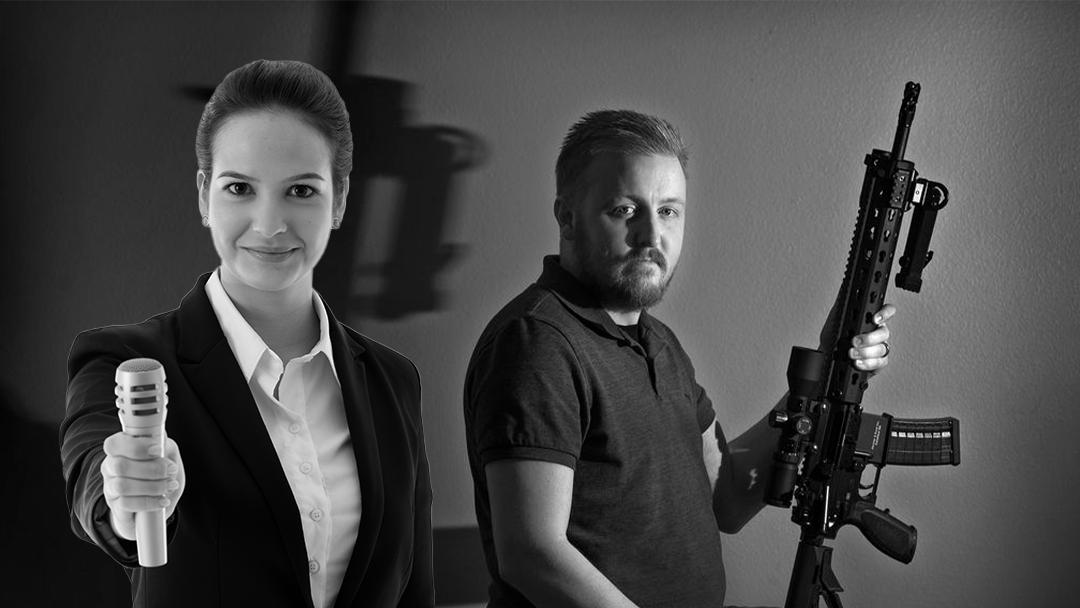 "The only way to stop a bad person from buying groceries is a good guy with a gun!" —Jeff Branson
How does one come to a true understanding of any subject? Isaac Newton tells us that every action has an equal and opposite reaction. Between any two forces is a center where balance can be achieved. This fundamental symmetry brought about a new understanding at the base of the world, so when Jeff Branson, age 23, open-fired at my local Kroger, I knew I had to hear him out and find common ground. He may have had the gun, but compromise is the very heart of America.
Crouched behind the bananas, I shouted, "Sir! What are your opinions on universal background checks?"
"A lot of people drown in pools! No one checks to see if you can swim before you buy one!" His salient yet tangential point rang in my ears, or maybe that was the hearing damage from Branson unloading his hand cannon into a crowd of cereal browsers?
I stepped over the body of a young woman bleeding on the floor and shouted back "and what about an assault weapon ban?" A fresh barrage of gun fire turned the bananas into a gyre of ying yellow peel confetti as I sprinted over to the ethnic foods section.
"A trained person with a shotgun can do more damage than an idiot with an AR-15!" It was not lost on me that the shooter himself was brandishing an AR-15. Even in a moment of supreme panic and fear, a good self-deprecating joke still got a rise out of me.
"An interesting point, sir!" I chuckled and ducked behind an adult diaper display.
"All guns can kill!" the shooter continued. "Fundamentally, what's the difference between one and many?" Just as I was going to regale him with an interesting detail from my university course in cultural anthropology, the salsas exploded sending shards of glass and an aromatic melange of red and green sauces flying. It was then I realized that I knew exactly how to reach across this shrapnel-filled aisle.
I dashed into the baking section and came across an elderly man who was bleeding from the leg, crouched by the flours to stand. His desperate eyes met mine as he held a finger up to his lips. Just below his plea for silence, he held a young injured girl in his arms. But the logical and reasonable must never be silent!
"Thoughts and prayers," I said to the man and girl, knowing that was all I could possibly do.
Branson rounded the corner. Now eye to eye, man to man, chest to barrel, I could smell his hesitation.
"How would you feel about a gun buyback program?" I asked. "Not on the federal level, but on a state by state basis." A puzzled look crossed his face. This was the moment. I reached out my hand as he lowered his firearm and shot me in the legs twelve times.
As he shot low, I knew I had gone high. There in a growing puddle of my own blood amongst the mingled screams and thunder of gunfire, I couldn't help but wonder, am I a hero for examining his reasons and challenging his rhetoric? I don't think that's for me to say. All I know is that there is nothing in this world that well-reasoned bipartisanship can't solve.
Note: This article has been published posthumously from the notes of the author. Functionally Dead has reached out to all other individuals mentioned in this article for comment and has received no response.
Owen Danan Martin is an Albuquerque-based actor, writer, performance artist, and DM. Follow them on the Twitter https://twitter.com/DogNotFromSpace for further instructions and on the Instagram https://instagram.com/OwenDananMartin for some N I C H E CONTENT.
For more from this issue, click here
Support leftist comedy and art! Subscribe to our Patreon or buy some physical goods from our shop.